Gayatri Joshi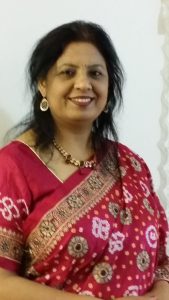 Mrs. Joshi is a well known documentary filmmaker, best known for her work in blending folkloric documentary and ethnomusicology in her films such as her series "Abhiyaan." Awarded by Commonwealth University for the " Best Creative Innovations" She has contributed greatly to the field of documentary since the late 80's with her avant garde techniques that brought entertainment value and diversity to the genre. Her films also reflect her versatile nature for she has been a News Reporter on Doordarshan, a performer in the theater arts, a voice over artist, and acts as an Indian ambassador in the USA to bridge the cultural gap between the natives and Indian diaspora.
Gayatri was honored to be part of the board member of the National Handloom Board for her contributions to the textile artistry with her films like "Tapka Tapka Bana Kallen" and "Crafts Museum at a Glance." She is a changemaker and talented artist, who utilizes both to improve the conditions of society by covering important topics like women's empowerment, education, and Indian politics. During the International Year Of Women Empowerment in 2001, she was awarded "Gujarat Gaurav Award" by the United Nations and she continues to be active in the emancipation of women.
She is a self made woman, social entrepreneur, artisan, and humanitarian who plans on opening an academy to train internationals about the important element and particulars within the media world.
---
Madan rajan
Madan is a devoted  filmmaker  for three decades scripting, directing, producing, and working with media stalwarts such as Mr. K Bikram Singh, Mr. Vinod Dua, and Mr. M.J. Akbar. He has developed a number of films for government as well as non governmental agencies alike, working in all  aspects of production including social spots, educational movies, news programmes, and docu-dramas for which he was given innumerable allocades . After a rewarding career in the industry and feeling the need to contribute , Madan began to share his experiences in the field through teaching audiovisual  and mass communication students at Bhartiya Vidya Bhavan, Sri Aurobindo Institute, Rai University, Institute of Media Studies, Chandigarh University, Gharuan Mohali as head of department and professor,  GD Goenka University School of Communications,Graphic Era Hill University,  HOD, Department of Media & Mass Communication,
He has been involved in grassroots development work in bringing awareness to important topics for disaster awareness and management, documentation of rare Himalayan medicinal herbs and plants, and advocacy for community radio projects. He is looking to integrate information technology or specifically filmmaking to grassroot agencies in engaging in development oriented issues together for stronger impact.
---
SARASVATICHANDRA  ACHARYA
Acharya is a reputed social and film  journalist , author, short filmmaker with more than 18 years of experience in TV, internet, print and news media. He has been honored with  the with the Brham Gaurav Award and  National Award as journalist, author, and for his book series 'Hello Gujarat.' He has worked in the United States full time with Gujarat Times in 2008 as a journalist and columnist, He was  awarded with  citation by Hudson Country from the US government for his social contribution through media. He has also been given 'Best  Film' awards for his film 'Thalassemia Ek Chunouti' from Government of India in Rashtriya Vighyan Chalchitra Mela  at 99th Indian Science Congress, Bhubaneshwar in 2012 and even from the National Science Film Festival in Bengaluru in 2014. He is presently the head of Dirgha Media TV News & Production Agency as well as the Chairman of the Press Foundation of India.
---